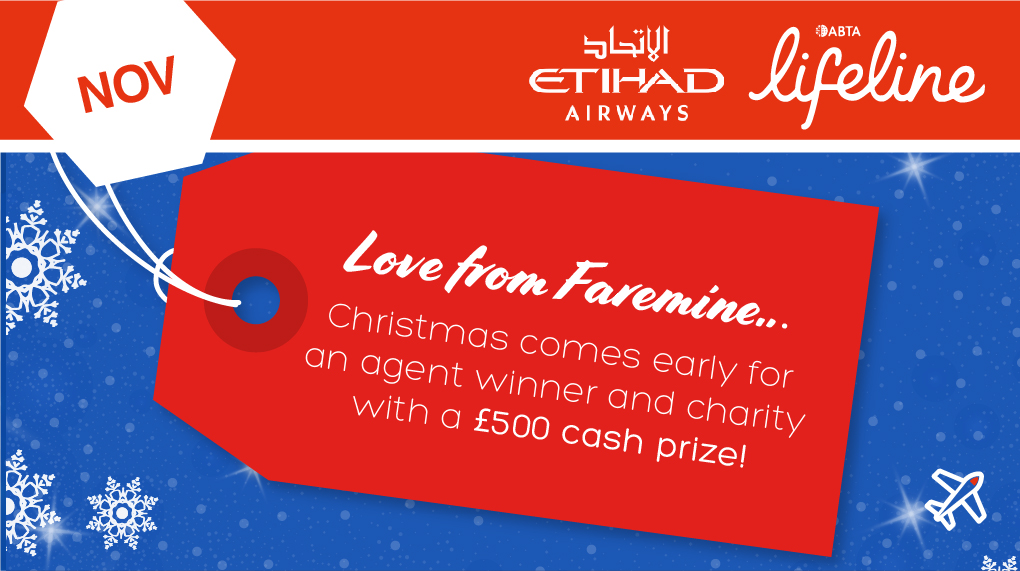 November 19: Christmas will come early for charity and lucky agent!
This Christmas, as it has been such a tough year for the industry, we are doing things slightly differently.
Faremine is helping towards the cost of Christmas, with a £500 CASH prize draw and matched donation to charity.
Throughout November, all Etihad bookings will go into a prize draw to win £500 CASH, which will be delivered to the lucky winner, in early December, in good time for Christmas!
Plus, we are matching the prize fund with a £500 donation to ABTA Lifeline.
All eligible bookings will be automatically entered into the prize draw.
The winner will be drawn at random after the prize draw closes at midnight, 30 November, 2019 and will be contacted directly, by a member of the Faremine team in early December.
Login now to start getting those Etihad booking entries in or register at here for fast, easy access to the industry's best reservation system, backed by our genuine, flight experts, happy to take your call and help you with your booking.